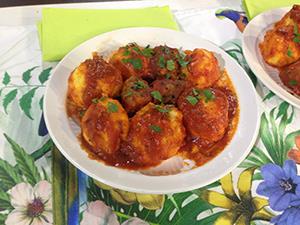 80
g
grated parmesan cheese
Small bunch of celery, chopprd
1
Bring 4 cups of salted water to the boil in a saucepan. Pour in the cornmeal and whisk for about 5 minutes until it cooks.
2
Remove from the fire and transfer to a bowl. Add the butter and cheese, mix well, then add the beaten egg and season with salt and pepper ( by now it should set and almost solid). Set aside. In a large pan gently fry the onion in the oil and when it softens, add the skinned sausages cut into pieces. Stir for a couple of minutes, then pour the tomato polpa over. Simmer for around 20 minutes.
3
In the meantime, with your wet hands, form small polenta balls and add to the sauce. Cook for a futher few minutes on a VERY LOW FLAME. Add the chopped parsely just before serving.