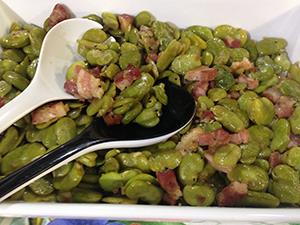 100
g
streaky bacon, cut in 1 slice and diced
1 small onion finely chopped
2 tbsps extra virgin olive oil
1
Shell the fresh broad beans. A very quick way to remove the second skin is to plunge them in boiling water for about 1 minute and gently squeeze out of the shell.
2
Heat the oil in a pan and fry the onion on a low heat until it becomes transparent. Add the diced bacon and fry for a few more minures. Add the beans and the wine and raise the heat so that the wine evaporates. Lower the heat and cook the beans until tender. Mix from time to time and add a little hot water if the mixture dries up.
3
Season with salt and freshly ground black pepper and serve warm or cold.