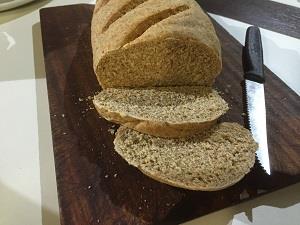 2 generous teaspoons dried instant yeast
Enough warm water to bind
1
Sift the flour in a large bowl. Add the yeast, the salt and sugar, and mix well. Make a well in the centre and pour the oil in some warm water. Start mixing it always gathering the flour towards the centre. Add more warm water slowly until soft, but firm dough forms. Turn out onto a floured surface, adding more flour if necessary, until you have soft dough that is not stick, but dry to the touch.
2
Knead for 10 minutes or until smooth enough, so that when you press the dough with a finger tip, it springs back. Rub the inside of a bowl with oil and put the dough in it. Cover with a tea towel and leave in a warm place until it rises double in size. Knock back the dough, knead for a couple of minutes, and place in a loaf tin brushed with oil. Using a sharp knife, slash the top with 1 cm deep cuts. Cover and leave in a warm place for about an hour, or until well risen. Preheat the oven to 180⁰C – Gas 4. Place a shallow baking dish containing 2 cups of water in the bottom of the oven – this helps to form a hard crust on the bread.
3
Bake for approx 40 minutes until the base sounds hollow when tapped.