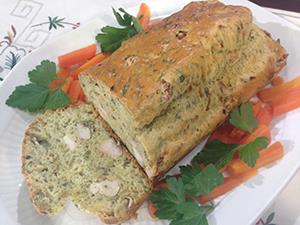 Heaped teaspoon dried yeast
1 small onion, finely chopped
1 small bunch parsley, chopped
A mixture of tarragon, chives and basil leaves, finely chopped
Salt and freshly ground black pepper
1
Preheat the oven to 180⁰C – Gas 4. Heat 1 tbsp oil in a frying pan and cook the onion for 5 minutes until soft. Add the chicken breast, season and cook for 5 minutes, until it starts to brown. Remove from heat.
2
Beat together the eggs, the dried herbs, the remaining olive oil and some seasoning. In a big bowl, mix the flour and yeast, and stir in the egg mixture until smooth. Let it stand for 5 to 10 minutes. Dice the cooked chicken and add to the flour mixture along with the onion and fresh herbs. Pour the mixture into a well-greased loaf tin. Bake for 10 minutes, then lower the heat and carry on cooking for 40 to 45 minutes until risen and golden. Allow to cool before turning out of the tin.
3
Slice and serve with a salad.