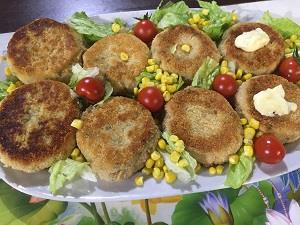 1 medium onion finely chopped
415
g
can pink salmon, drained and flaked
2 tsps finely grated lemon rind
1 egg lightly beaten – extra
For the lemon mayonnaise:
2 tsps finely grated lemon rind
1
Heat 1 tbsp oil in a frying pan and cook the onion and garlic until soft. Combine with the potatoes, salmon, parsley and egg in a medium bowl. Using hands, shape the mixture into 8 patties, place on a tray and refrigerate for at least 30 minutes. Coat the patties in flour, shaking off excess. Dip in extra egg and coat in breadcrumbs. Heat the extra oil in a large frying pan; shallow fry the patties until well cooked and browned on both sides; drain on absorbent paper. Serve the patties with mayonnaise mixed with lemon rind, together with a green salad.