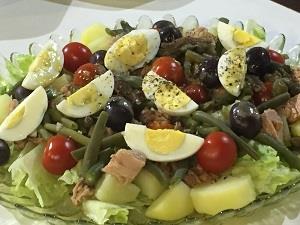 200
g
green lettuce leaves
3 hard boiled eggs ,cut into wedges
1 ½
tbsp
white wine vinegar
1
Cook the potatoes in boiling salted water until just tender. Drain, peel cut into small cubes and place in a bowl. Drizzle with the olive oil and then toss well . Trim , cut the beans in half and cook.Drain the tuna and separate into chunks. Cut the tomatoes in half.
2
Assemble the salade by: covering the base of a serving dish with the lettuce leaves,and scattering the potatoes,beans, tuna, tomatoes, olives and capers on top.
3
Make the vinaigrette by mixing together the garlic, mustard and vinegar in a small bowl and slowly adding the oil. Whisk continuously to form an emulsion. Pour the vinaigrette on top and toss just before serving and decorate with the eggs and anchovies.