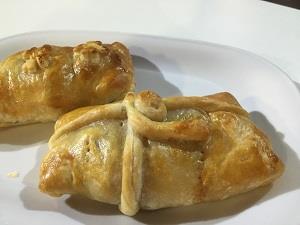 4 thick slices of pork fillet
1 medium onion-finely shredded
200
g
mushrooms – finely chopped
2
tbsp
pine nuts – lightly toasted
2 garlic cloves – finely chopped
Few fresh sage leaves – chopped
Salt and freshly ground black pepper
1
Trim any excess fat from pork,making sure you get rid of any membrane that will cause the pork to shrink. Pound the fillets with a mallet to flatten them slightly. Heat the oil in a frying pan and add half the butter. When the butter starts foaming add the pork and saute' on both sides until almost cooked. Remove from the pan and set aside. Pour off the excess fat from the pan. Melt the remaining butter, add the onion, mushrooms and garlic and cook over low heat until softened but not browned. Add the wine, bring to the boil and simmer for two mins. Add the herbs and pine nuts, and season with salt and pepper. Continue cooking until liquid has been absorbed.
2
Remove from the heat and let it cool. Roll out the puff pastry and cut into 4 squares. Trim the edges and keep for decoration. Put a slice of ham on each square, divide the mushroom mixture onto each square and spread evenly. Place each fillet on top and wrap tightly as a parcel, pressing the seams together firmly and tucking the ends underneath.
3
Put each parcel seam side down on a lined baking tray and brush all over with the egg yolk. Decorate the top with pastry shapes and pierce with a fork. Bake for 25-30 mins in a preheated oven at 200⁰ Gas 6.