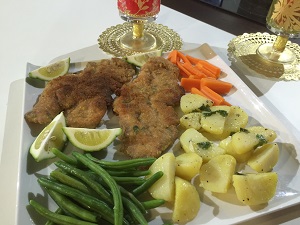 4 shoulder steaks approx 1cm thick
2 garlic cloves, finely crushed
100g fine, dried breadcrumbs
2 tbsps grated parmesan cheese (optional)
1
Slightly flatten the steaks with a meat mallet. Beat the eggs and add the garlic and parsley. Season with salt and pepper.
2
Lightly coat the steaks in seasoned flour; put them in the egg mixture and leave for about 1 hour. This way the steaks will absorb the flavours.
3
Mix the breadcrumbs and cheese (if using) in a shallow dish and coat the steaks on both sides, slightly pressing with your hand. For best results put the steaks in the fridge for about one houe before cooking. This enables the coating to stick to the meat.
4
When it is time to cook the steaks, heat the oil in a large pan, remove the steaks from the refrigerator and fry on both sides until crisp and golden. Serve immediately with a fresh salad or other vegetables of your choice.