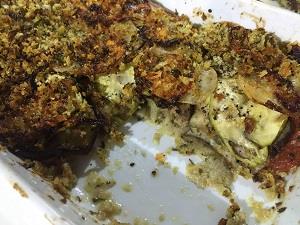 100
g
day-old white bread, crust removed
1 medium aubergine, sliced into rounds
300
g
courgettes, sliced into rounds
2 medium potatoes, peeled and thinly sliced
4 large tomatoes, thinly sliced
1
Place the bread, garlic and parsley in a food processer and turn until you have fine green breadcrumbs. Add 1 tbsp of the olive oil and turn again briefly. Transfer to a bowl. Meanwhile brush a deep, ovenproof baking dish with a little of the remaining oil.
2
Sprinkle a third of the breadcrumbs over the base of the dish, cover with layers of aubergine, then courgette, potato and tomato, seasoning each layer. Repeat the layers, finishing with a layer of tomatoes. Heat the oven to 190C – Gas 5. Cover the baking dish with foil and bake for 35 minutes.
3
Remove the foil, scatter the remaining breadcrumbs over the top, and drizzle with the remaining oil. Return to the oven for a further 20 minutes or until the vegetables are cooked and the top is nicely browned.