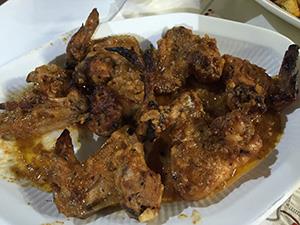 For the marinade:
2 teaspoons grated lemon rind
Freshly ground black pepper
1
Place the chicken wings in a shallow, oven-proof dish. Put all the marinade ingredients in a bowl, whisk until well combined and pour over the chicken wings. Cover with cling film and marinate overnight in the refrigerator.
2
Bake in a preheated medium to hot oven for about 30 minutes, turning occasionally. Serve with either baked potatoes or chips.