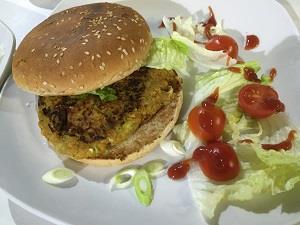 200
g
cooked mashed potatoes
3 spring onions finely chopped
Lettuce leaves and sliced tomatoes to serve
1
Grate the courgettes and the carrots into a colander and leave for 10 minutes, then squeeze dry. You can do this easily enough in a clean tea towel.
2
Combine all the ingredients, except the flour and the oil, in a bowl. Using lightly floured hands, shape into 6 burgers and chill up tro 1 hour before cooking.
3
Lightly brush the burgers with oil, heat a griddle or a non-stick frying pan until hot and cook the burgers for 3 minutes on each side or until golden brown. Turn once carefully using a palette knife. Serve with a cucumber or letuce and tomato ketchup.