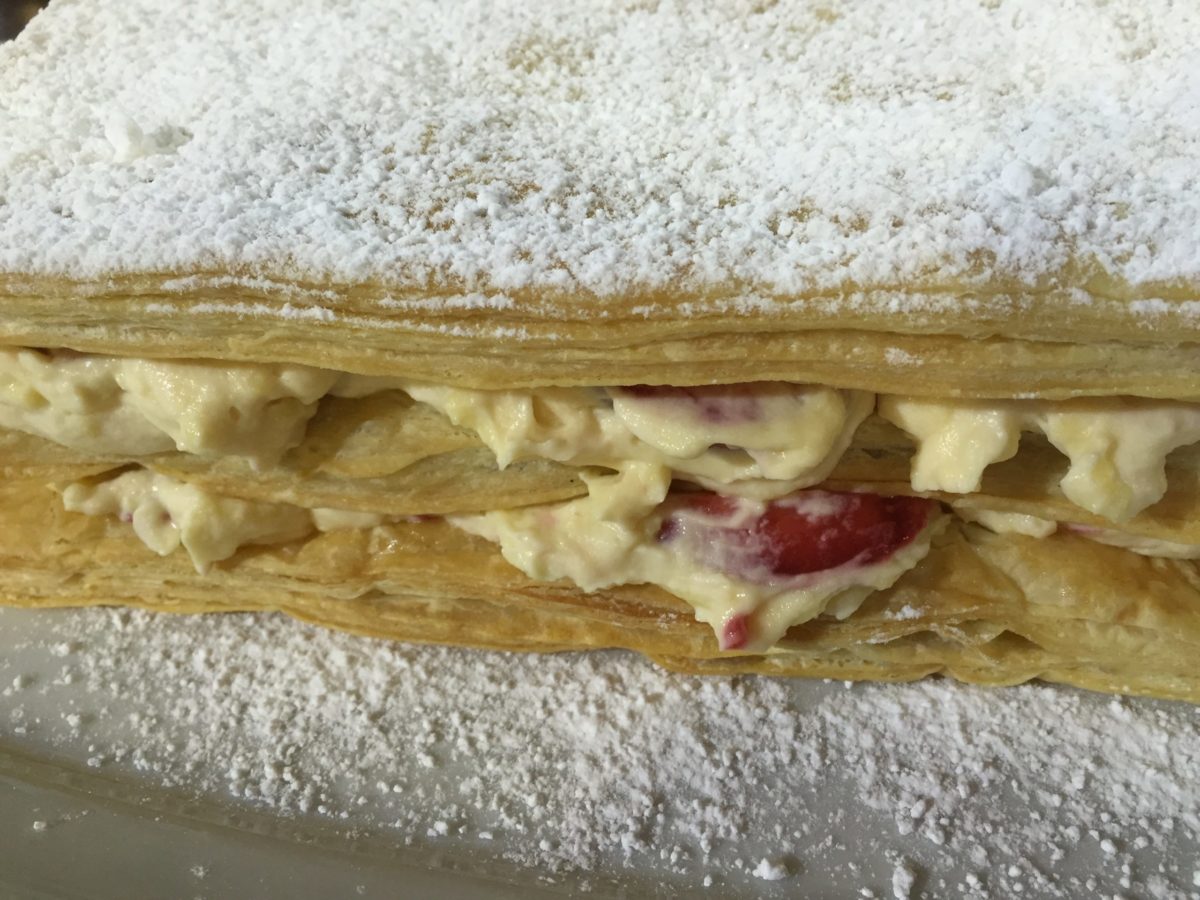 500
g
ready rolled out puff pastry
5 tbsps sugar for the syrup
125
ml
fresh whipping cream
300
g
strawberries, washed, hulled and cut into quarters
Creme patissiere ( Pastry Cream)
Few drops vanilla essence
1
To make the creme patissiere: Whisk the egg yolks and half the sugar together until pale and creamy. Sift in the cornflour and flour and mix together until well blended. Put in the milk, remaining sugar and vanilla essence in a saucepan. Bring just to the boil, and then pour over the egg yolk mixture, stirring with a whisk. Pour back into a clean saucepan, stirring constantly. Boil for 2 minutes, then stir in the butter, pour into a bowl and cool.
2
To make the Mille Feuilles: Preheat the oven to 180⁰C – Gas 4. To make the syrup put the 5 tbsps sugar and 185ml water in a saucepan. Boil for 5 minutes and remove from heat.
3
Cut out three 30 x 13 cm rectangles from the rolled out pastry and place thjem on a large baking tray. Prick with a fork, cover with a sheet of baking paperand place a second baking tray on top to prevent the pastry from rising unevenly. Bake for 6 minutes, then remove the top baking tray and baking paper. Brush the pastry with the syrup and bake for another 6 minutes, or until golden on top. Cool on a wire rack.
4
Whip the creme patissiere. Whip the cream and fold into the creme patissiere. Spread half of this over one pastry rectangle and top with half of the strawberries. Place a second layer of pastry on top and spread and spread with the remaining cream and strawberries. Cover with the last layer of pastry and dust with icing sugar to serve.