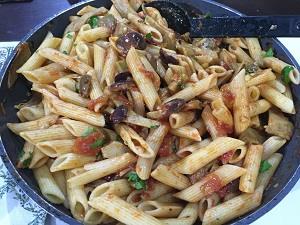 60
g
black olives – stoned
2 garlic cloves – finely chopped
Small bunch parsley Extra virgin oil
1
Prepare the artichokes by removing the tough outer leaves and cutting off the top half. Remove choke then slice
2
Thinly dropping them as you go along into a bowl of water with lemon juice.
3
Heat 2 tbsps oil in a large pan, add the garlic, chopped parsley and chilli; stir for 1 minute, then add the drained artichikes and fry
4
for a few minutes, mixing frequently. Add the olives and capers, stir again and lastly add the tomato polpa. Cook over a slow
6
Boil the pasta "al dente", drain and pour onto the sauce, add 1 tbsp olive oil and some parsley, mix gently and serve.