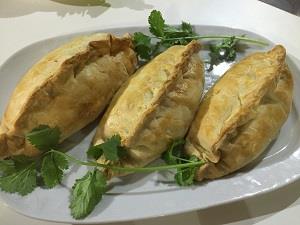 Pastry
200
g
butter, chilled and cut into cubes
130 – 150ml chilled water
Filling
1
tsp
coarsely ground black pepper
1 onion peeled and finely sliced
1 carrot peeled and grated
1 parsnip or potato, grated
1
In a food precessor whizz together the flour, salt and butter until it resembles breadcrumbs. Sprinkle over just enough water and pulse to bring the dough together in large flakes. Tip the dough on to clingfilm and gently draw it together. Wrap and chill for 30 minutes.
2
To make the filling, gently heat the oil in a small frying pan, add the cumin seeds and black pepper and cook for 1 minute or until they begin to sizzle. Add the garam masala and coriander and cook for a further minute, until fragrant, then remove from the heat and tip into a large bowl. Add the vegetables and mince meat and mix everything together.
3
To assemble the pasties, divide the pastry into 4 and roll out each portion to measure 23cm round, using a plate as a guide.
4
Place a quarter of the filling on each surface, then brush the edge with the beaten egg and draw up the sides to meet. Crimp to seal with your finger and thumb. Place the pasties on a lined baking sheet and chill for 30 minutes. Heat the oven to 180⁰C – Gas 4. Brush the pasties with the beaten egg, then bake for 25 -30 minutes until golden.