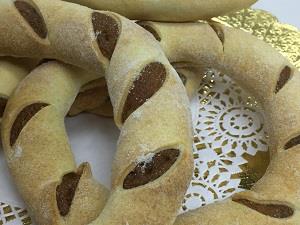 100
g
margarine or butter
For the filling
Juice and rind of 1 orange
1
tsp
orange flower water
For the filling
1
Place all the ingredients except the semolina in a large saucepan. Slowly bring to the boil amd then add the semolina little by little, stirring all the time to avoid lumps from forming. Cook for a few minutes until the mixture thickens. Transfer to a bowl and let it stand for about 12 hours or overnight.
For the Pastry
2
Sift the flour, add the sugar and semolina and rub in the margarine or butter. Slowly add enough cold water to bind and knead until you get a soft, pliable dough. Let the pastry rest for about 30min before using.
To make the honey rings
3
Roll pout the pastry and cut into 10 x 18 cm strips. Roll pout the filling into sausage shapes and place along the middle of the pastry strips. Wet the edges of the pastry and fold over the filling, and make small slashes with a sharp knife all along the top. Bring the 2 ends together to form rings.
4
Dust a baking tray with semolina and place the rings on it. Bake in a preheated oven at 190C – Gas 5 forabout 20 to 30 minutes until the pastry is a pale golden colour.