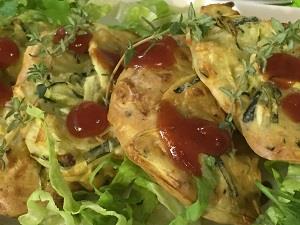 4 medium zucchini, trimmed and cut as matchsticks (julienne)
Salt and freshly ground black pepper
3 tbsps grated parmesan cheese
To make the batter :
1
Beat the eggs in a basin with the seasoning and thyme. Whisk in the flour, breadcrumbs and cheese and combine well until you obtain a smooth batter. Lastly add the zucchini.
2
Line a tray with baking paper and drop spoonfuls of the prepared mixture. Bake in a preheated oven at 180C - Gas 4 for about 20 to 25 minutes. Serve immediately. They are also very good at room temperature.