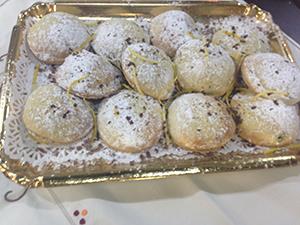 For the Pastry:
1 teaspoon grated lemon rind
For the filling:
Few drops vanilla essence
Small egg, beaten plus 1 egg yolk
1
tbsp
mixed candied peel
25
g
dark chocolate, finely chopped
PASTRY
1
Sift the flour, salt and sugat into a bowl. Rub in the butter until the mixture resembles fine bread crumbs. Add the lemon rind. Combine the egg and water, sprinkle over the dry ingredients and mix to a dough. Knead for a few seconds until smooth, then chill for 30 minutes.
FILLING
2
In a bowl, mash the ricotta well with a fork. Stir in the sugar, vanilla essence, egg yolk, candied fruit and dark chocolate. Divide the pastry in 2 and roll each half to make a rectangle measuring 15 x 56cm.
3
Preheat the oven to 180⁰C – Gas 4. Arrange heaped tablespoonfuls of the filling in 2 rows along one of the pastry strips, leaving a 2,5cm margin around each. Brush the pastry between the fillings with beaten egg. Place the second strip of pastry on top and press down between each mound of filling to seal. Use a 6cm pastry cutter to cut around each mound of filling to make small circular ravioli. Gently pinch each ravioli with your finger tips to seal the edges.
4
Place the ravioli on a greased baking tray and bake for 15 minutes until golden. Serve warm sprinkled with icing sugar and grated chocolate.